Company Release - 4/26/2019
11:35 AM
ET
HOUSTON, April 26, 2019 (GLOBE NEWSWIRE) -- Chart Industries, Inc. (NASDAQ: GTLS), a leading diversified global manufacturer of highly engineered equipment for the industrial gas and energy industries, announced the release of IPSMR®+ process technology, which builds upon our IPSMR® process.  The additional features of IPSMR®+ will further lower power consumption, reduce plant emissions and lower plant cost per ton.  Chart's IPSMR®+ delivers industry leading project economics by producing more LNG while reducing plant capital cost.  

In the new age of LNG modular midscale solutions, Chart's IPSMR® process has been adopted by EPCs, Project Developers, and validated by both National and International Oil Companies.  Specifically, IPSMR®, along with our industry-proven brazed aluminum heat exchangers, Core-in-Kettle® heat exchangers and our Hudson air cooled heat exchangers, will be utilized on multiple mid-scale export terminal projects.
Today, we are announcing our next generation of liquefaction technology, IPSMR®+.  The technology builds on our single mixed refrigerant design and adds a pre-cooling step.  Chart's IPSMR®+ process provides as much as 8% increased efficiency over IPSMR®.  Chart's less complicated method for pre-cooling IPSMR® requires approximately 25% less plot space than conventional pre-cooled liquefaction technologies, independent of which rotating equipment is utilized.  In addition to broadening our mid-scale offering, with the additional efficiency, capacity and cost benefits, IPSMR®+ is an excellent choice for baseload LNG plants using multiple identical liquefaction trains. 
"At our customers' requests to continue developing innovative technology solutions using industry standard and proven equipment, Chart is pleased to be offering IPSMR®+ which is an enhancement of our successful IPSMR® process technology.  IPSMR®+ has been evaluated by two international oil companies who have compared our own process and other technologies and determined it continues to be the most efficient," said Jill Evanko, Chart Industries' Chief Executive Officer.  "We are proud of our equipment and processes which serve a broad set of applications and can be customized to what works best for the operator and our partners in each project."  
For more information, click here:
http://ir.chartindustries.com/
Contact:
Certain statements made in this news release are forward-looking statements within the meaning of the Private Securities Litigation Reform Act of 1995. Forward-looking statements include statements concerning the Company's business plans, products and technology. future orders and customer requirements, business trends, and other information that is not historical in nature. Forward-looking statements may be identified by terminology such as "may," "will," "should," "could," "expects," "anticipates," "believes," "projects," "forecasts," "outlook," "guidance," "continue," or the negative of such terms or comparable terminology.
Forward-looking statements contained in this presentation or in other statements made by the Company are made based on management's expectations and beliefs concerning future events impacting the Company and are subject to uncertainties and factors relating to the Company's operations and business environment, all of which are difficult to predict and many of which are beyond the Company's control, that could cause the Company's actual results to differ materially from those matters expressed or implied by forward-looking statements. Factors that could cause the Company's actual results to differ materially from those described in the forward-looking statements include those found in Item 1A (Risk Factors) in the Company's most recent Annual Report on Form 10-K filed with the SEC, which should be reviewed carefully. The Company undertakes no obligation to update or revise any forward-looking statement.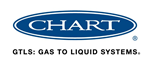 Source: Chart Industries, Inc.